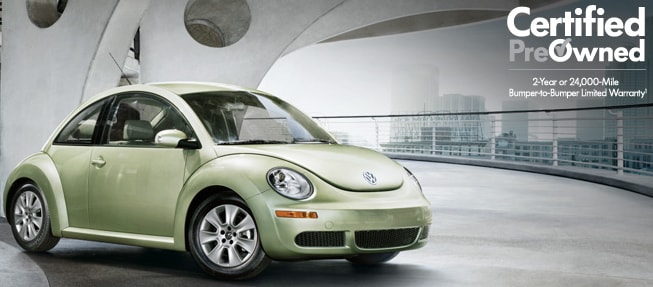 112-Point Inspection
Before earning the title of "certified," our dealers put a used Volkswagen through a comprehensive, painstakingly detailed 112-point gauntlet. Anything older than 5 model years or past 75,000 miles is immediately out. They'll even reject it if it is missing the original keys. Then they get started from an intense on-lift examination to a road test to ensure maximum drivability, they turn these cars inside out, then outside in. If anything is amiss, they'll repair or replace it with Genuine Volkswagen parts. Bringing new meaning to the phrase "good as new."
5 of the 112 inspection points:
Check engine for starting and performance, and idle for knocking and vibration

Check transmission for any performance malfunction or noise

Test brakes for proper function, distance and vibration

Test steering for noise, effort, vibration and pulling

All maintenance up to date, ensure records with vehicle
Volkswagen 2-Year or 24,000-Mile Bumper-to-Bumper Limited Warranty
Volkswagen is proud to offer a 2-year or 24,000-mile (whichever occurs first) limited warranty on all our certified used Volkswagen vehicles. Plus, you keep the balance of any limited warranties already on your certified used Volkswagen vehicle. Think of it as peace of mind on four wheels.
Take a closer look at what we cover.
What's Covered:
2 years or 24,000 miles (whichever occurs first)

Any repair or service caused by a broken or malfunctioning part covered by the limited warranty

24-Hour Roadside Assistance Program²

Engine

Steering

Front and rear axles

Manual transmission

Electrical power supply

Heating and air-conditioning

Anti-lock Braking System

Electrical systems

Torque converter

Differential

Material or manufacturing defects
Based on approved credit. See dealer for details. Other restrictions may apply. TERMS OF CPO LIMITED WARRANTY: Repairs under this limited warranty will be performed free of charge after a deductible of $50 per dealer visit. See warranty information or consult with an authorized Volkswagen dealer for details.